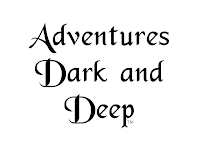 It's here, it's finally here! The Kickstarter campaign to fund the Players Manual for my Adventures Dark and Deep™ game launched just a few minutes ago:
http://www.kickstarter.com/projects/623939691/adventures-dark-and-deep-players-manual
I'm asking for $6,500 to pay for a heap of artwork from a bunch of excellent fantasy artists and professional editing. This is the first of three books; after this will come the Game Masters Toolkit and then the Bestiary. The KS campaign ends on December 19, a mere 30 days from now. This book contains everything a player needs:
Complete information on the various character races
Complete information on the various character classes and sub-classes, including the bard, jester, mystic, savant, and mountebank
The complete combat system
Hundreds and hundreds of spells, including tons of new spells for both the new and old character classes
Sections on equipment, experience, hit points and healing, and lots more!
So go forth and spread the word far and wide, my friends. The question "what would AD&D have looked like if Gary Gygax had been allowed to keep developing it" is about to be answered!