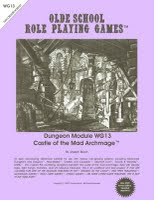 With the change of direction my online gaming work has taken, a couple of folks have asked about my intentions vis-a-vis the Castle of the Mad Archmage, my extension/ continuation of "Castle Zagyg" as originally published by Troll Lord Games.
The way I see it, I've got three options. One, continue on with it as it is currently envisioned, detail the the remaining six levels, and then put it up for folks to use as they will. Two, retool (or cannibalize) it for whatever new system and setting I eventually come up with. Three, leave it as-is. Of the three options, I'm pretty much ruling out the first unless there's a vast push-back and the prospect of actually making money on it. It does take an enormous amount of work.
I did mention that my new sandbox setting will have a tentpole. However, given that everything is in such an embryonic state, I can't foresee whether the "classic random megadungeon" is going to be a good fit as that tentpole. I've got some other ideas which might, I think, be both fresher and more exciting, and yet quite in keeping with the structural function of the classic megadungeon.
So, for now, work on CotMA is officially halted, with one possible exception. Joe B. is in the process of working on the maps for level 7. What I might do is produce a final version with those maps included, but the whole being unkeyed, allowing the DM to develop the level and then move on to the deeper depths full-blown. Sort of a "soft take-off". We shall see if that works out.