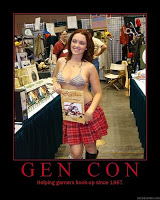 So I check my inbox today, and what do I see but a note from GenCon with the fast-approaching dates to submit events (Jan 13th), get a badge (Jan 24th), and get housing (Jan 26th).
Full details are here: http://www.gencon.com/2010/indy/sm/press/releases/2010/2010.1.08.Email.aspx
I haven't been to a GenCon in many years (in fact, it was still in Milwaukee when I last attended). Time is not really an issue; it's all about the finances (we're planning a trip to Orlando this summer, so that's taking up all our available "fun money"). If it looks like it's possible I'll be able to attend, I'll definitely want to run a session of Castle of the Mad Archmage, and of course finally meet some of the luminaries of the OSR face-to-face. If a spare $1,000 falls into my lap, I'm there (he says looking hopefully up and to the right at the "donate" button…)!