I make no bones about being a fan of the Unearthed Arcana book, and one of the ideas behind Adventures Dark and Deep™ is that the additional rules, spells, classes, etc. will be "folded in" to the original rules from the DMG and PH, with the intent of making a seamless whole.
However, one of the things that just sticks in my craw are the enormous number of demihuman sub-races. To be perfectly honest, I'm not a fan of most of the sub-races in the Player's Handbook and Monster Manual. Why would anyone play a "regular" hairfoot halfling when you can play a stout and get infravision and detect sloping passages?
Just look at the plethora of demihuman sub-races:
Dwarf, Gray
Dwarf, Hill
Dwarf, Mountain
Elf, Dark (M)
Elf, Dark (F)
Elf, Gray
Elf, Half-
Elf, High
Elf, Sea
Elf, Valley
Elf, Wild
Elf, Wood
Gnome, Deep
Gnome, Surface
Halfling, Hairfoot
Halfling, Stout
Halfling, Tallfellow
(I break dark elves into male and female because there are substantive differences between the two.)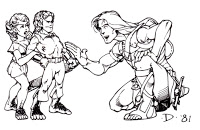 But seriously– do we really need 17 different types of demihumans? Personally, I think there is a place for such diversity, but in the context of specific campaign settings. For example, the valley elf was originally a product of the World of Greyhawk Fantasy Setting; found, appropriately enough, in the Valley of the Mage. We also have gully dwarves from the Dragonlance setting, and others.
If a given setting has a need for such specialization, I am all in favor of it. But the wholesale porting of such specialties into the generic pool seems a bit of overkill to me. What, pray tell, is the need for wild elves and valley elves, other than a bit of minutae regarding level limits and class availability? Just have a group of elves that don't have clerics among them and call it a day, rather than inventing a whole new sub-race of wild elves.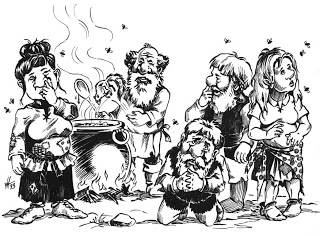 Personally, I would keep the main demihuman races, include the underdark and aquatic variants, and probably keep it at that. Leave everything else to campaign-specific variation (although the rules would explicitly mention the possibility of such variations, and maybe include an example). Yes, you have to keep sea elves. I mean, they sell prosthetic sea-elf ears for LARPs. C'mon! Prosthetic ears!
Am I alone in this opinion? Do folks find the broad variety of demihuman options to be too much, or a welcome means of introducing variety?
EDIT: Hey! I just realized this is my 300th post. Go me!