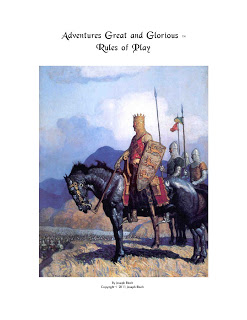 Well, before all the steamboats left the slip, I figured it was time I made the official announcement about something I've been tinkering with for some months, now.
Adventures Great and Glorious™ will be a stand-alone game that depicts the actions of kings, high priests, merchant princes, and generals. In briefest outline, the game will cover:
The Colony game. What happens when someone strikes out on their own on the fringes of civilization, and carves out a freehold of their very own. Clearing territory, attracting settlers, and starting your own economy.
The Power game. The interactions between various factions and centers of power in an already-established nation, allowing the best to rise to the pinnacle of power.
The Long game. Rules for playing a game over successive generations of player characters, a la Pendragon.
Full integration with Adventures Dark and Deep™ or any other similar game, allowing individual characters to integrate effortlessly with the factions of AGG, enabling a game master to create a massive combined game sharing the same campaign world, or simply have the events in one game influence the other.
Tips and guidelines for running AGG as a purely PBEM game.
Mass combat rules, intended for use with either miniature figures or with cardboard counters, to enable players to resolve battles the old fashioned way.
Naval combat rules, intended to give a full measure of fantasy naval combat fully informed by history, again either with miniatures or cardboard counters.
I know that this has been touted as "the end game", but I'm not convinced that all that many campaigns end up on this trajectory. Thus, I envision it as a game unto itself. Something compatible with, but not necessary to, a more conventional game where you play a single character, rising in level and killing ever-more-awesome bad guys, thwarting their plans, and taking their treasure.