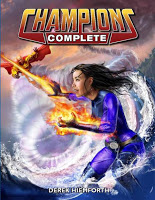 The Champions role-playing game, one of the longest-running superhero games ever, will soon be released as a new core book. Champions Complete has finished printing and will soon be available in both print and digital versions.
…
The latest version of the game, Champions Complete, will be a 240-page softcover book with black and white interiors and a full-color cover by Sam R. Kennedy. The book was written by Derek Hiemforth. This single volume core rulebook will include all of the rules needed to play the game. The suggested retail price will be $40.00. A PDF version will also be available for $20.00.
…
Champions Complete is fully compatible with all sixth edition Hero System products.
Champions, along with Villains and Vigilantes and Marvel Super Heroes, saw a lot of action around our gaming table in high school. I haven't played it recently, but I do own a lot of the 5th edition Hero System stuff, and might want to give the new version of Champions a try. Certainly a nice price-point nowadays.