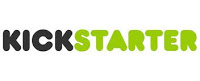 It seems that doing a retrospective on one's crowdsourcing history seems to be the meme of the hour, so I thought it might be interesting to go through my own and see how the campaigns I've backed have done. It's not all gaming-related, but most of it is.
So, here's the breakdown:
Out of a total of 15 projects that funded and should have shipped by now, 47% shipped on time, 20% shipped late, and 33% haven't shipped. Now that I look at the math, that's not such an impressive number. One project in three are still in limbo? Yikes. Still, almost half shipped exactly when they said they would, and that does give me some hope.