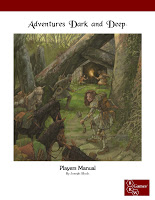 I'm pleased to report that the Adventures Dark and Deep™ Players Manual is now available for sale in both hard cover and soft cover versions through the BRW Games online store.
The soft cover costs $19.95 and the hard cover costs $29.95. Each comes with a complimentary pdf version.
If you purchased a pdf copy of the book before now, in a day or two you'll be receiving a special offer via email that will allow you to purchase either book for $9.95 off the cover price, so you're not penalized for buying the pdf early.
Thanks to everyone who supported the Kickstarter for the book, and everyone can also look forward to the Game Masters Toolkit, which should be available in the May-June time frame.
Enjoy!