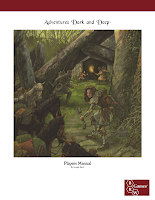 There's a lot going on right now, so I thought it would be a good idea to recap where things stand with Adventures Dark and Deep…
The Kickstarter campaign for the Bestiary proceeds apace. As of this writing, we are at $5,333, which is enough to get us 153 illustrations, the cover, and the editing. Woot! Since it's only been a couple of days, I'm very hopeful that we'll get much closer to the goal of having a custom illustration for each one of the 900 monsters that will appear in the book.
The Game Masters Toolkit is off to the printer. Files have been sent for approval, and once that happens and the proof copies check out, they'll be put on sale over at the BRW Games web store at RPGNow.com. Right now the PDF will cost $9.95, the softcover version will be $14.95, and the hardcover $24.95, and both of the latter will include the PDF, as always. Remember, this one wasn't funded by a Kickstarter campaign. It's done the old fashioned way.
Come June, there will be a contest for the best Adventures Dark and Deep character sheet(s). There'll be prizes, and merriment, and all sorts of hoopla. Details will be forthcoming.
Lest anyone accuse me of skipping off to Rio on my ill-gotten gains from Adventures Dark and Deep, I'm planning on putting out some free stuff this year. The aforementioned character sheets, for one, and I've got plans for a "how to play" guide and free introductory adventure. There will almost certainly be other free stuff along the line as well.
That's not to say that I don't have delusions of actually paying my beer tab from this thing, so I'm going to have a few things for sale. A few nifty adventures, for one, and at least one more Darker Paths supplement that you'll be able to use with ADD or other compatible games. More new spells! Yay!! And a random dungeon/wilderness generator, but that will probably have to come next year. I do have a day job and a family, after all…
Speaking of things for sale, those of you who are able to make it to this year's DexCon convention over Independence Day weekend in Morristown, NJ will have a unique opportunity. I'm planning on having special, convention-only hard copy versions of some of the products that are currently only available in PDF format. These will be hand-assembled print versions of the Necromancer, Witch, and Treasure of Welthorp adventure. They will only be available at this convention (and possibly others that I attend officially as BRW Games). Here's your collector's item, eBayers.
Oh, and I'll also be running some Adventures Dark and Deep sessions that will utilize the terrific terrain from Legendary Realms Terrain. A vast dungeon layout with walls and miniatures, and a few stalwart adventurers looking to loot the place and leave bits of monster scattered about. Look for it if you are planning on attending! (And if you're not, CHANGE YOUR PLANS!)
Nothing's written in stone, of course, and everything's subject to change. But that's where I see things right now. Oh– and if anyone is interested in writing some ADD-compatible adventures, either published by BRW Games or that you'd like to publish yourself, the door is wide open! Just email me and let's see what we can do.