Most Greyhawk fans are well acquainted with Gary Gygax's pre-Greyhawk map, created for the Castles and Crusades Society shared campaign world (due in large part to Jon Peterson's masterful history of the early days of the role-playing game hobby, Playing at the World):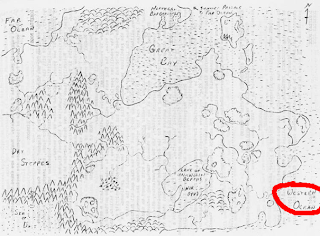 I myself have looked at this map dozens of times, charting similarities between it and what would eventually become the map of the Flanaess. But tonight, as I was looking at it to answer a specific question, my eyes lit on a particular label and I noticed something very odd indeed that I never really processed before. I've circled it in the above picture.
Why would that particular body of water be called the "Western Ocean" when it is on the eastern side of the continent?
Is it a simple mistake, or could it portend something more interesting? Common sense tells me it's probably the former, but the DM in me wants to make up some extravagant explanation.