The always-excellent Chirine has a post up today about miniatures. One of the things he mentions, based on his experience in OSR message boards (he doesn't mention which ones), is that the OSR in general feels miniatures are a Bad Thing in RPGs.
With all due respect, I don't think it's the case that we OSR types are invariably anti-miniature. Although I don't go on gaming message boards at all now, except for Canonfire!, and the subject never seems to come up there, it being Greyhawk-specific. Perhaps the attitude is different on message boards than it is on the blogs, I honestly couldn't say.
I, myself, am a prime example. Back in the day we always played with figures, except when we played someplace where there weren't any to be had, in which case we didn't. It really didn't enter into our minds that the question was relevant; use 'em if you got 'em.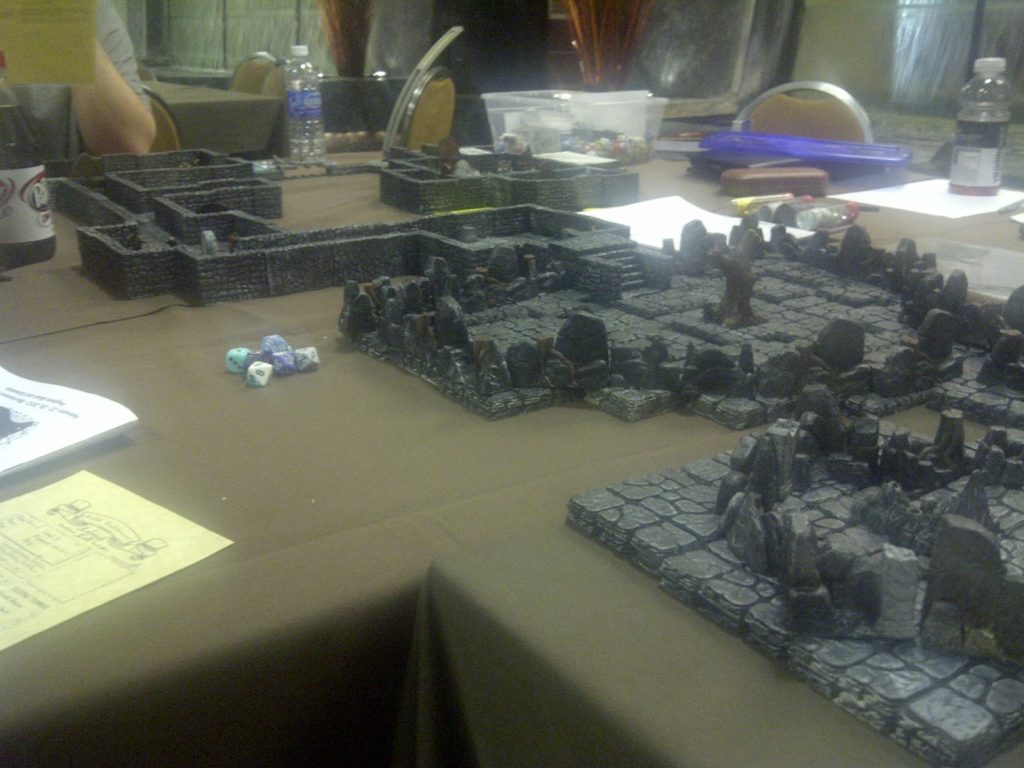 Labyrinth Lord at Dreamation 2012
Then I stopped playing in the 90's, got rid of all my figures (and repeatedly bang my head into nearby cinder block walls when I think about it), and when I came back to gaming I didn't use them, strictly because it was too expensive/too much effort to reassemble a collection. Now, though, I'm about to run a new campaign, and have been painting up a bunch of figures especially for it. (It happens to be a 5E campaign, but they'll be used when I run 1E or ADD, too.) But the attitude is the same; miniatures are nice to have, but aren't essential, and neither are they anathema. I get the impression that many of the OSR bloggers have the same attitude, but I may be mistaken.
I would say that the existence of a whole company dedicated to making OSR miniatures might be a point against Chirine's conclusion; pig-faced orcs and all. Heck, Otherworld Miniatures even has a Labyrinth Lord line, which would be odd if the writers and players of Labyrinth Lord (an OSR game if ever there was one) were against the use of miniatures in their games. There are also going to be some Barrowmaze figures, which again is a prime example of an OSR type adventure.
My point being, one's experience on some message boards shouldn't be extended to the OSR as a whole. Some folks might well be against miniatures (their loss), but some of us are very pro-miniature, or, at the very least, pro-miniature-if-they're-handy. Please feel free to sound off in the comments; is the OSR (or should it be) pro-, anti-, or practical- when it comes to miniatures?