Hey all!
Just a quick note that Project Oasis, my post-apocalyptic RPG setting, will be tomorrow's Deal of the Day at RPGNow and DriveThruRPG, for 50% off the normal price.
One Day Only!
Project Oasis is a gonzo PA setting that draws inspiration from the post-apocalyptic aesthetic of the 1960's and 1970's. Think Planet of the Apes (movie, TV show, and Marvel Comics' original stories like Terror on the Planet of the Apes), Logan's Run, Genesis II, Planet Earth, Ark II, A Boy and His Dog, Mad Max, and the Ultimate Warrior (a very underestimated film in my opinion!).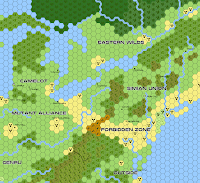 Toss all that up in the air and let the pieces settle all over a continent-wide map of North America, throw in a 36 page guidebook that's very rules light (although it does have appendices with new monsters and technology, statted for both Apes Victorious and Mutant Future, although you can use it with almost any old-school science fantasy rules), and you get Project Oasis.
And it'll be just $4.98 tomorrow. I guarantee it will never be that price again.
Enjoy!
A thousand years ago, the world died.
Now, out of the ashes of the great nuclear-biological Devastation comes a new world. A world where intelligent apes hunt humans for sport. A world where subterranean mutant cyborgs serve great disembodied brains and plot world domination. A world where apocalyptic cults try to finish what the bombs started. A world where frightful artificial intelligences command armies of robot servants, and entire nations of clones lead peaceful and productive lives, unless you're not of the right clone-lineage.
And it's also a world where mankind and his newfound fellow intelligent species try to pick up the pieces and rebuild civilization.
This is a world where a force for good, knowledge, and science works to help restore that which was lost, to guide this new world onto a path of justice and learning. That force is called Project Oasis.