In the previous post in the series, I sketched out the small area the PCs will be operating in at the start of the campaign. Now I'd like to add a little more detail by laying out some encounters, both fixed and wandering. The stats below are for 1st edition AD&D, but they're very minimal and could be used with just about any OSR rules. Here is the map, now with encounter areas marked in red (you'll have to click to zoom to see the numbers):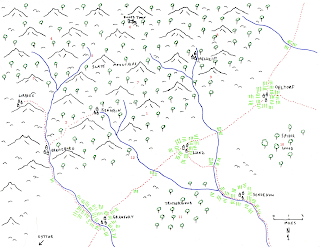 ENCOUNTER KEY
Hermit. A small wooden hut is home to Father Georg, a hermit in self-imposed exile, soured by the politics within the church (C7, 30 hp, AC 9 (but owns chainmail and shield for AC 3), align LG, usually unarmed but owns a mace +2; spells usually memorized bless x2, cure light wounds x2, purify food and drink, augury, chant, slow poison, speak with animals x2, create food and water, cure disease, prayer, cure serious wounds). He has only a few coins at any given time; whatever wealth he comes across he gives away to those few he encounters. He finds he vastly prefers the contemplative life, and gets along with the Spinebreaker orcs, who sometimes come to him for healing when their own shamans are unable to work the required miracles. He will be friendly towards visitors, but if they show up regularly, he will politely ask them to respect his desire for solitude. He knows where the three orc villages are at any given time, but will not share this information if he thinks it will be used to attack them.
Bandits. A group of 35 bandits has made camp only a hundred yards off the road. They are taking advantage of the confusion caused by two contradictory boundary stones; they are in the disputed area claimed by both Jenstein and Greitzberg, and have agents in both towns stirring up feelings about the strip of land. Thus, neither will risk a full incursion to root out the bandits, lest the other take it as an attempt to seize the area by force. The bandits are led by Gregor Ostoff (F8, 55 hp, AC 5 (chainmail), battleaxe +1, ring of invisibility). His lieutenant is also his lover, Wulende (F7, 39 hp, AC 5 (chainmail), longsword, dagger +1). There are 6 second level fighters (AC 7 (leather + shield), armed with longsword), 20 1st level fighters (AC 7, (leather + shield) armed with longsword), and 15 1st level fighters (AC 8 (leather), armed with light crossbow and hand axe). They have amassed a small fortune including 7,000 sp, 950 gp, 6 pieces of jewelry, and two potions of healing. The majority of the treasure is buried in the woods where only Gregor and Wulende know, but the men have 20 sp and 3 gp each, out of the total.
Hippogriffs. A family of about a dozen hippogriffs nests here in the crags of a steep rock face. They will often kill from the herds and flocks of Lirberg when they are set out in the hills to graze.
Vampire Tomb. Here is the tomb of the vampire that originally turned the baron of Lirberg into the undead; an early Valaisian explorer named Jean Rochon, although he styles himself Sieur Rochon d'Montrose (hp 45, formerly a T9, so has all the relevant thief abilities in addition to his vampiric powers). The tomb is built into a natural cave, and consists of a pair of rooms. During the day the vampire is guarded by a pair of trolls who live in the outer chamber and who are completely under the vampire's thrall (32, 30 hp). He is quite urbane and gracious, and will not attack unless pressed. He has designs on the whole of the district, and although his plans in Lirberg were thwarted, he has learned to be more subtle and is looking for agents he can either charm or whose loyalty can be bought with the promise of wealth and power.
Goblins. A group of goblin mercenaries have deserted, and have set up a temporary camp on the banks of this river. They have no plan, and are being harried both by the orcs and by troops sent into the forested mountains to track them down. They are extremely suspicious of outsiders, given the fact that they are surrounded by enemies. The company of 32 (down from 60) spearmen is led by a bugbear hauptmann (captain) named Rogran (15 hp) armed with battleaxe and shield, and 3 hobgoblin feldwebel (sergeants – 9, 9, 8 hp) armed with morning stars. The goblins have 1d3 sp each, while Rogran has their remaining wealth in a chest in his tent (24 gp, 112 sp). At the moment Rogran is laying low, hoping for some opportunity to come their way to get them out of their current predicament. Orc attacks are regular occurrences.
Ruined Town. This is the ruined Artanian town, now left to rubble and overgrown with plants. This is a detailed encounter area that will have to be laid out in detail with its own map and key. Might not get to it in November, but designing specific encounter areas is out of scope for NaCaCrMo, so I'm not worried.
Dryad Grove. A group of 4 dryads live here. They currently have a captive; Rolf Tardor (F5, 31 hp, AC 10, Align NG, unarmed). Rolf was a woodsman who dwelt in Jenstein and disappeared 2 years ago. He was presumed killed by the Spinebreaker orcs, and his wife has since remarried. Each dryad has 6 gp and the group collectively has 3 gems.
Hill Giants. A clan of 6 adult male hill giants dwells in a large cave here (hp 40, 36, 34, 34, 32, 30). There are also 2 females (treat as 6 HD ogres; hp 27, 26) and 2 young (older 6 HD, 28 hp; younger 4 HD, 16 hp). A pair of dire wolves act as pets and watchdogs (15 hp each). The giants occasionally raid Melheim, and have amassed 2,000 gp worth of supplies; 750 gp in furs, 250 gp in wine, 500 gp in copper ingots (weight 1000#), and the rest in coins – 300 gp, 2,000 sp, and 20,000 cp). They also have a longsword +1 that one of the giants uses as a dagger.
Obelisk. This curious structure is incredibly ancient; it predates the Artanian civilization by thousands of years. It is made of granite, but has been worn down by the passage of time, so that the once-sharp inscriptions can barely be seen at all now. It radiates powerful magic, and if the right magical incantation is spoken, it will open up a gate to another plane. This spell can be found in the ruined town in encounter 6.
Ettercaps. Although the Spiderwood is thick with monstrous spiders of all sizes, at the heart is a pair of ettercaps (25, 24 hp). Tangled in the webs and strangling nooses of their lair are 2 pieces of jewelry and a potion of heroism.
Wereboars. A trio of wereboars lives in the heart of the Trotterwood (25, 23, 22 hp), who have a treasure of 2,200 sp and 870 gp, in addition to potions of hill giant control, fire breathing, and extra healing. The wereboars originally came from Sendenow, but they have adopted the boars and giant boars of the wood as their own family, and deeply resent the villagers and their regular hunts. There is another wereboar in the village whose existence has not been discovered, who gives them intelligence on the upcoming hunts, so they can warn the boars and sabotage the hunters.
Criosphinx. This creature (42 hp) is well-known to the villagers from Jenstein who take their granite down the river to the ford, where it is loaded onto carts bound for Osttur. He will often be seen on the banks of the river, and is of a friendly disposition. He will sometimes ask riddles of the boatmen as they travel downstream. He has an arrangement with the owners of the granite mines, who pay him a regular stipend for his protection and promise not to interfere with the shipments through his territory. He has grown fat and lazy, finding this infinitely easier than harassing each boat as it passes. He has amassed 900 gp so far, but the arrangement does work out well for all concerned, since he also chases off any bandits or other creatures that would interfere with his cozy arrangement.
RANDOM ENCOUNTERS
Slate Mountains
Orcs. A warband of the Spinebreaker orc tribe. 30 warriors armed with halberds, with 1 captain and 3 lieutenants (8 hp each) armed with battle axes and short bows.
Wolves. A pack of 1d6+6 wolves.
Woodsmen. 1d6 woodsmen from the nearest human village (F2, AC 7 (studded leather + shield), patroling for orcs or other unusual activity.
Brown bears. 1d4 brown bears plus 1d2 cubs.
Giant snake. Giant constrictor snake will drop on a party member from the trees above (25 hp).
Set encounter. The nearest creature from the encounter key above or a human village is met in the woods, on some mission.
Roads
Merchants. A small caravan of 1d6 carts is traveling towards the nearest village.
Farmer. A farmer is taking a load of foodstuff to the nearest village.
Itinerant priests. A group of clerics (C5, C3 ,C3, C2) is on a mission to reinforce the faith within the district. The first time they are encountered, they come from Osttur and are relatively new. If re-encountered, they will be the same group; they will visit a village, stay at the local temple for a week or so, and organize a special service with the blessing of the local priest. They are led by Father Max, who has extreme views on the virtues of poverty.
Margot the Magnificent. A wandering magic-user (MU6, 15 hp), Margot comes from Valais and sells her magical powers to the locals, as well as putting on shows for free at the local taverns. She makes a decent living this way, and is well-liked by most. She is accompanied by a pair of "assistants" (F3, 18, 17 hp, AC 7 (studded leather + shield), armed with spears and light crossbows).
Mr. Wurno. A wandering tinker (gnome, T8, 23 hp) who sells a huge variety of trinkets and gadgets from his overstuffed cart. He always seems to have exactly what a customer needs. He has been around for as long as anyone can remember.
Patrol. A mounted patrol of local militia from the nearest village, led by one or two of their ritters, will ask the PCs their business. If they seem legitimate they will be allowed to pass, but if they are heavily armed without some sort of letter of marque or other authorization, they may be questioned more closely.
Note that encounters along the roads are meant to be repetitive. It should be very natural for the PCs to get to know most of the potential encounters in as small an area as the district. They should get used to seeing Father Max, Margot, etc. This can be used to the DM's advantage; if Mr. Wurno suddenly stops being seen on the road, it may lead them to investigate, leading to some adventure. These NPCs can also be used to further some plot down the road, if the DM has need of a spy or somesuch later on. As the game goes on, I might add others, to keep things fresh, but the continuity of familiar faces is important.
Plains (more than 1/2 mile from the road)
Badgers. 1d4+1 badgers.
Wild dogs. A pack of 4d4 wild dogs.
Patrol. See the road encounter table above.
Herd. Cattle or sheep from a nearby farm. A shepherd will be nearby.
Spiderwood
Giant spiders. 1d8 giant spiders.
Huge spiders. 1d12 huge spiders.
Large spiders. 2d10 large spiders.
Ettercaps. 1 (50% chance) or both of the ettercaps from #10 above.
Trotterwood
Wild boar. 2d6 wild boar. 15% chance of being accompanied by 1 of the wereboars from #11.
Giant boar. 2d4 giant boar.
Wereboar. 1 (50% chance) or both of the wereboars from #11 above.