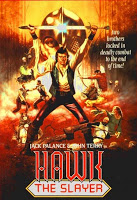 Back in the early 1980's, there were two films that made the rounds on HBO and Cinemax that really got my D&D blood racing and which in retrospect I see had a great influence on my gaming at the time. 1980 saw Hawk the Slayer, staring John Terry as the noble Prince Hawk and Jack Palance as his villainous brother Voltan (complete with Darth Vader-esque helm). It is usually considered just another cheesy swords-and-sorcery flick, but I find a lot of good stuff there.
The music is rousing, if a little over-the-top at times. The special effects are definitely wanting, but are made up for by the earnestness of the cast and a pretty good job of acting all around. Jack Palance in particular gives an over-the-top performance that chews the scenery in a way worthy of Ricardo Montalban in Wrath of Khan.
The humor is important, but it doesn't overwhelm the film. One scene stands out in my memory in particular; Talon has been captured, and his men have enlisted the aid of the afore-mentioned pirates to help break him out of the evil king Cromwell's dungeons. They cheer and leave the tavern with murder on their minds and with a resolve that nothing will stop them! Cut to all of them in a cell, captured. Hilarious, because it's done in such a deadpan fashion. But because the film doesn't present itself as a comedy, even self-depricatingly, the humor works.
And of course this is one of the standards of the genre, especially where it intersects with gaming tropes. The evil king, the rebellion brewing among his oppressed subjects, the plot twists around Count Michelli… great stuff and all very usable in a gaming situation.
There were plenty of other films from the era that influenced my gaming, of course; The Archer: Fugitive from the Empire and The Beastmaster foremost among them. But these two have a special place in my heart, and the fact that they are being revived (rather than remade) could be a very good thing indeed.