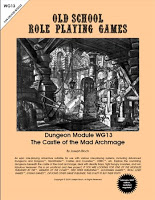 And here we go with the second installment of my Castle of the Mad Archmage. The new level, "The Dungeons", comes in at 200 encounters, four (hand-drawn) maps, and of course more new monsters and magic items. The format is the same as before, but I changed the color of the cover, so you can easily distinguish between them without having to read. It's 12 MB or so, and 40 pages. As before, the download is in the upper-right corner of this very page.
I took the opportunity to make a few changes to level 2 "The Deep Cellars", including planting the fountain of endless snakes there, and adding a couple of staircases that I had missed the first time out (all those changes are incorporated in the new download). The Greyhawk Construction Company has been busy…
The maps are still the same hand-drawn format they were the first time, but I'm hoping to have the old-fashioned blue maps ready by the time level 4 comes out in March. The excellent cartographer Joe Bardales has volunteered to undertake the task, and I'm thrilled at the final product. My thought at this point is that the maps will be moved into their own map booklet, to make things easier to handle in terms of file size.
The reaction to level 3 was (almost) universally positive and I cannot thank you all enough. The response to this project has been beyond my expectations, and I am glad beyond the telling that you are finding it useful or at least fun to read.
I'm going to take a day or two off, and then it's on to the Lower Dungeons! (And get ready for some gear-shifting on that level. Gotta keep mixing things up!)