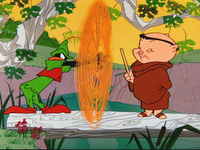 Okay…
I think I've come up with an elegant solution to the whole "how the heck do I actively defend against an enemy?" question. And it works so well with (A)D&D, I thought I would share. How about this:
Anyone engaged in melee can opt to parry. The term includes dodging, avoiding, etc. as well as literal parrying of weapons.
The character opts to parry as part of their normal attack in the melee round. Characters who lose initiative may not parry. Parrying subtracts a number from the opponents' "to hit" roll equal to half the number chosen by the character, to a maximum of their level (round down). Characters are penalized by the full amount on their own "to hit" roll. Opponents of fighters (and cavaliers, and sub-classes of both) are penalized the full amount, rather than half, due to the training they receive. Monsters can parry at a level equal to their hit dice, at the full rate as if they were fighters.
EXAMPLE: A 5th level fighter chooses to parry 3 points during his round. Both his opponent and he suffer a -3 penalty on their "to hit" rolls.
EXAMPLE: A 4th level magic-user chooses to parry 5 points during his round. He cannot, however, since he can only is 4th level. He opts to parry 4 points. His opponent is -2 on its "to hit" rolls. He is -4 "to hit" for that round.
My only concern is, is this too under-powered a rule? Would you ever parry in melee, given these rules?