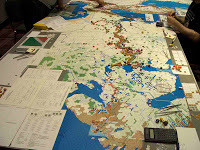 Anyone up for a couple of old-fashioned (or newfangled) hex and counter wargames?
We're doing a semi-informal games day at the FLGS, Mighty Titans Hobbies and Games in Randolph, NJ (that's on Route 46 in Morris County) this Saturday.
The whole thing is being organized through Meetup.com here. We're going to have on-hand games like OGRE/GEV, Napoleon's Last Battles, Starfire, Tactics II, and more (not, unfortunately, Europa, which is pictured above). We'll decide on what's actually to be played when we're there.
If you're in the area, feel free to stop on by! We're starting at noon and going 'til whenever. If it is a success, we might turn it into a semi-regular thing. See you there!