We march ever-closer to the release of the Necromancer character class. I present to you now, for the first time, the cover (click to embiggen):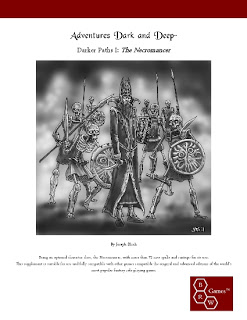 It's only a half-sized image of the real cover, so if you have trouble reading the text, here 'tis:
"Being an optional character class, the Necromancer, with more than 75 new spells and cantrips for its use. This supplement is suitable for use and fully compatible with other games compatible with the original and advanced editions of the world's most popular fantasy role-playing game."
The cover art, as well as the main character piece on the interior, is the outstanding work of Jason Sholtis, one of the great artistic talents of the OSR, whose work graces many different OSR works including Fight On! and Knockspell, adventure modules by various publishers, and now my own humble work. I'm just thrilled to bursting with the way it turned out, and so wanted to give my loyal readers a sneak peak.
The Necromancer will be made available in the early part of October, in both print and pdf versions. Keep watching this space!