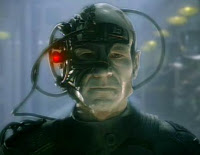 Fathom Events is running a special showing of what are arguably the best two episodes of Star Trek: The Next Generation in select theaters tonight. From their description:
The Best of Both Worlds – the two-part storyline comprising the third season finale and the fourth season premiere of the beloved series Star Trek: The Next Generation®- will, for the first time ever, be seamlessly tied together as one continuous and uninterrupted story digitally restored with new CGI effects… on the big screen! Audiences will also see special clips from "Regeneration: Engaging the Borg", a behind-the-scenes look at the making of The Best of Both Worlds.
Sounds like a hoot, and fortunately my local theater is showing it tonight. I'm very curious to see what those "new CGI effects" are. These are also my two favorite episodes, so I'm really looking forward to this tonight!