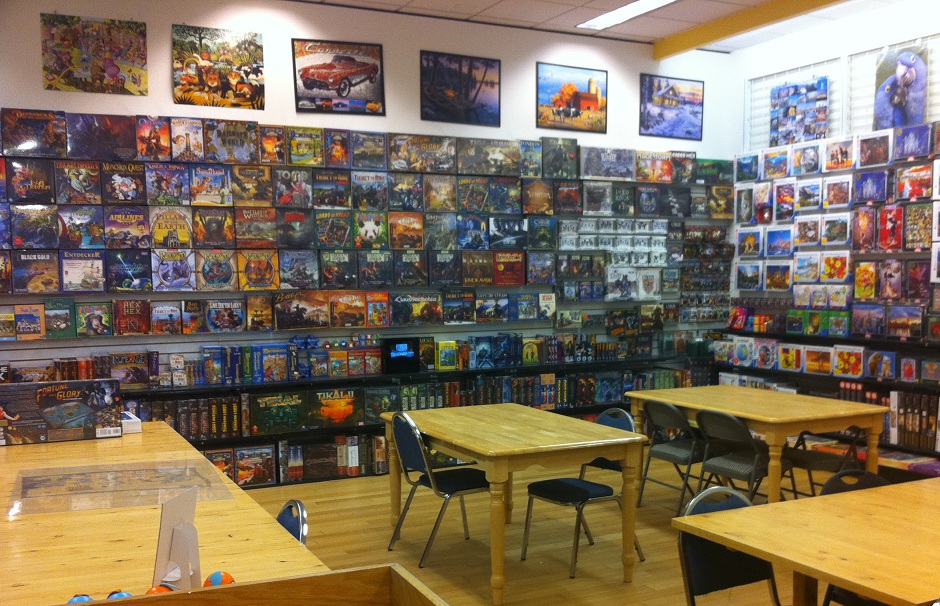 Theboardgamefamily.com
The other day the OSRToday announced the creation of a directory for those FLGS's who stock items of interest to the OSR to put their names and relevant data onto a list, with the idea that it might encourage more custom to said stores. All well and good, and certainly couldn't hurt anyone.
But what I found more interesting was the subsequent debate on GooglePlus between Jason Paul McCartan (who runs OSRToday) and Christopher Hardy, who runs the Savage Sorcery game store in… ummm… I'm not quite sure, because nowhere on "the ultimate game room store"'s website do they actually give a physical address other than buried on a less-than-helpful Mapquest map (and you're lecturing others about "insight and experience in the real "foot traffic" market"???). [UPDATE: It seems to be on the "About Us" page now.]
Daysofknights.com
The discussion basically came down to Christopher saying that he doesn't stock OSR material because it doesn't turn a decent profit. And that's a very fair point. If your clientele is more interested in LAN parties, Frisbee golf(!), and the latest M:tG release, then you need to follow the money. It's a business, not a charity for 40-something gamers. But he also said "we don't and can't thrive on RPG Materials of any kind. It's mainly an afterthought." That I found quite revealing.
I say that because I know at least two FLGS's in driving distance for whom RPGs are a significant slice of their business. Certainly not a throwaway category that's more trouble than it's worth. They go out of their way to cultivate a clientele that wants those games, and develops the sort of customer loyalty that brings them into the store rather than taking the discount on Amazon, or the convenience of buying from RPGNow.com. And bear in mind everything in this post I say about RPGs applies to board games, too.
Castleperilous.com
I've also been in FLGS's who have exactly the same attitude towards RPGs (especially RPGs that aren't D&D or Pathfinder) that Savage Sorcery seems to have. They just can't be bothered, and even if I am standing at the register with money in hand asking them to special order something for me, it just will never happen, and they act completely put out by even being asked to try. Those stores, I don't go back to.
It's admittedly a conundrum. Players/customers don't frequent the store because there's nothing there for them to play or buy. The store doesn't stock any OSR stuff because it would sit on the shelf and represent a waste of money. Honestly, I get that problem.
This actually circles back to another discussion that was going on earlier this week about TARGA, the abortive Old School version of the RPGA that I originally boosted way back in the early days of the blog, and might have had a small part in getting off the ground when I posted about such an organization back in 2008.
I think that such an organization might actually be a perfect vehicle to solve the conundrum. Perhaps the OSRToday site might be able to do so as well.
Shopofmagic.com
What if there was a way for any given FLGS to gauge interest in OSR type games? I'm thinking along the lines of GMT's P-500 program, where people indicated interest until a critical mass was reached. Once, say, a dozen people said they would frequent the store if they knew it carried a selection of OSR games, the store would take the plunge and then be able to fire off a very specifically targeted email campaign at those people. Basically, opting in to an email announcement list that wouldn't activate until it hit a target number of members.
Now, obviously not everyone who signed up for such a list would actually walk through the door. But I think it's not unreasonable to say that there would be a higher-than-average response rate, especially if it was combined with special events, sales, etc. I only picked a dozen out of thin air; maybe each store would be able to set its own threshold, based on local conditions and the willingness of the store owner to take a risk on such a venture.
Myriadgames.com
Heck, it could even get more specific and poll those signing up for which games in particular they'd be interested in. When you get eight people within driving distance who all say they are interested in Castles and Crusades, that could be valuable information for the store owner, and he might want to pick up some of the latest releases and let those people know.
Perhaps such a thing would be more useful to the stores, and ultimately more useful to the players, because it would give the stores a way to know that they weren't speculating on some obscure title, and the players a way to know that there were others in their area who were interested in playing that obscure title, and would be willing to not only play at the store, but buy stuff there as well. And it could be expanded to board games, too.