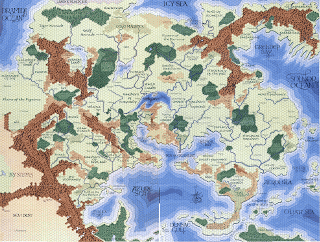 Real quick update on the 5E Greyhawk material.
The Greyhawk 576 Players Manual is very far along. Races, classes, backgrounds, feats, spells, and quick descriptions of the Lands of the Flanaess are done. 23 gods out of 70 are completed, 13 are mostly done, and the rest still need to be started. Factions are about halfway done.
The DM's Guide to Greyhawk 576 is in a much less complete state. 14 nations out of 63 are finished, the rest are mostly done. Geographical features, history, and climate are done, but weather, cosmology (both the crystal sphere and the planes) are not yet started. Magic items are about halfway done, but monsters and notable NPCs are also not yet started.
Back to the gods of Greyhawk I go!
I should also mention that the playtest is still going on, and new material is constantly being sent to the playtesters. If you'd like to participate, please email greyhawkgrognard@gmail.com and I'll send you the NDA for you and your players to sign.