Hey all!
Just a reminder that my post-apocalyptic RPG setting, Project Oasis, is on sale as part of OBS's Setting Sale. One third off is a pretty sweet deal!
For those who haven't heard of it, Project Oasis is my gonzo post-apocalyptic setting, written for Mutant Future and Apes Victorious, but usable with any old-school science fiction/science fantasy rules. It's got ape cultures, mutants ruled by giant brains in jars, militant pig-men empires, amazon realms, time bubbles with 21st century people trapped in a time just after the war, high-tech enclaves either trying to rule or save the world, and tons more.
Plus it comes with a huge map of post-apocalypse North America (here's just a snippet):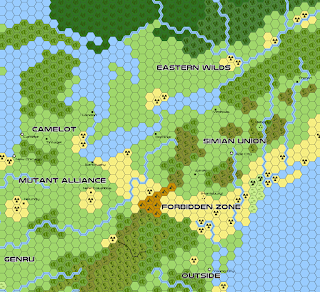 But hey, don't listen to me. Take a gander at James Mishler's review:
The upshot of the review is that this is the best PA campaign setting on the market today, if you are into the middle-era PA genre. If you aren't, well, get on the bandwagon! The PA middle-genre provides you with all the action, adventure, seriousness, and wild and wacky wahoo you could ever want out of a PA setting, and this book distills it all down for you. Project Oasis plus Mutant Future and Apes Victorious can provide literally years of PA adventures. With Project Oasis Joseph Bloch has presented the PA gamer community with a PA campaign "Greyhawk Gazetteer" upon which to build and develop their own campaigns.

Project Oasis is a book I wish that I had written. And really, I can't give it better kudos than that.

Five out of Five Stars
I am still blown away by that review (thanks, James!). Check out Project Oasis on sale here!