(Image from Ralph Bakshi's film "Wizards")
I've been trying to lay low on the politics as of late, but sometimes there comes along a criticism of D&D that is so mind-numbingly stupid that it requires a response, just in case some pudding-head takes it as reality because of the lack of response. All this is just my opinion, of course…
I speak here of yesterday's pile of bilge from one Michael Meinberg (whom I actually know IRL as a distant acquaintance, as we both frequent local conventions such as Metatopia) entitled How to Make Your Game Anti-Fascist. Buckle up, boys and girls; a Fisking's a'comin'.
I might be kicking a hornet's nest with this one, but I think it's an important topic to talk about. America, and much of the world, has seen a new rise of fascism, in a variety of authoritarian guises. This is definitely a global issue, but all global issues are also local ones, so I think we all have a responsibility to address fascism in our communities.
Okay, let's get this out of the way right off the bat. Yes, there's a new rise of Fascism, but it's coming from people like Mike (can I call you Mike?) who want to tell everyone else what they can and cannot do, say, and ultimately think. The ones who scream (literally) "racist" at anyone who is to the right of Karl Marx, and who absolutely can't stand Hitler in any way, shape, manner, or form, but seem quite okay with idolizing just about every other homicidal dictator over the last hundred years. People like Mike have zero knowledge of history, being completely ignorant of what real Fascism is, how the present administration is completely unlike it, but also completely ignorant of how their own actions and goals are much more in line with historical Fascism.
Now, on to the meat of Mike's little article.
There's no denying that tabletop RPGs and LARPs have a fascism problem. The introductory work, Dungeons and Dragons, is rife with material that appeals to fascists of all stripes, from its treatment of race to its codification of alignment to its fetishization of violence. To make matters worse, many works do not examine their relationship with authoritarianism and fascism and wind up creating worlds and systems that allow fascists to take root and find comfort.

This is simply not acceptable.
Oh, goody. Another ultra-leftist hectoring the rest of us normal people about how we're not playing elf-games to suit his taste.
"Not acceptable." Well, that certainly has an aura of finality about it. But before we proceed it must be remembered that when Mike says "Fascist" or "Fascism", he doesn't really mean Fascist or Fascism in a historical or even modern political sense. He just means "Republican" or "Trump voter" or "conservative" or "libertarian" or, let's just come out and say it, "anyone with whom I disagree on politics" (or gaming, apparently). We must always read this article through that lens, and I intend to.
So, that said, does D&D appeal to conservatives, and libertarians, and the rest? Sure! But not exclusively, and the mere fact that someone like Mike also finds D&D and games of its ilk appealing gives lie to his premise right off the bat. I could just as easily make the argument that D&D appeals to Marxists of all stripes, from its equal shares of experience points for all party (!) members to its codification of alignment (seriously, he should love that – in 5E, Neutral Good characters "help others according to their needs" (Player's Handbook p. 122) – they're literally quoting Marx!!!) to its fetishization of distribution of wealth (taking gold from those who hoard it in dungeons and spreading it around the villages and cities).
The point being, the game isn't aimed at any particular political stripe. It appeals to everyone – right, left, Christian, Atheist, and on and on and on.
Fortunately, there are tools available to game designers and runners that can be implemented to help create games that are not friendly to fascists and their ideology. Consider this a primer – an introductory text of its own.

As a note, not all of these strategies need to be used in a given work. However, the more that are used, the less room that fascists will find to engage with the material.
Okay, so moving on from a game that appeals to everyone, Mike is going to offer tips on designing a game that will only appeal to a very specific demographic. A political demographic that doesn't include Republicans and conservatives and Libertarians, because those people shouldn't have fun. Or jobs. Or homes. Because… FASCIST!
Emotional Safety Rules

Emotional safety rules are the single most powerful tool in a game's arsenal to make it unpalatable to fascists. Too many games have a top power structure where the GM or DM or ST or staff have final say in how the rules are implemented and how the structure of the game flows. A GM-centric model is not necessarily a bad one, though, as this allows for the other players to focus on their characters in isolation, and the GM to present the world around them, allowing for reactive and intense play.

The key to making a GM-centric game work, though, is an understanding of the power relationship. All players, GM included, are there to have fun, to explore the world and plots as desired by all participants. However, the physical, emotional, and mental well-being of the participants has to take priority over the details of the game.

By placing emotional safety rules into a game, it provides a defensive measure for all participants and breaks the unidirectional power dynamic. All participants become empowered to make their voices known and to control the flow of play where it matters most. Emotional safety mechanics are seldom enough on their own, but a game without them is a cause for concern.
Dude, with your first rule you've not only made your game unpalatable to Republicans and Libertarians, but… most people. RPGs like D&D are games like any other, and they rely on rules. But Mike wants there to be rules that say if you don't like something in the game, you should be able to change it, because you shouldn't be upset.
Character death? Don't be ridiculous. Failure to detect a trap? That's not fair! Didn't slay the dragon and rescue the princess? You're scarring me emotionally! The adventure requires that you hire on as guards for a merchant caravan? DON'T REQUIRE ME TO ENFORCE PROTO-CAPITALIST SOCIAL NORMS, YOU FASCIST!
Avoid Biological Determinism

The idea of "race" as presented in Dungeon and Dragons has become pervasive throughout many works that draw inspiration, directly and indirectly, from it. The idea that a person's biological origin determines their nature and character is as pernicious as it is dangerous. Racists of all kinds, including fascist ones, speak in similar terms, describing themselves as "race realists" while they deal in biological determinism. There have been many articles discussing the very troubling implications of orcs and drow, but the truth is that any game that engages in this sort of activity is dealing in the language of racism.

Biological determinism extends beyond race, and into gender. While few modern games apply direct statistical modifications based on a character's race, many do have underlying beliefs about gender roles built into the setting of the game, into the way that the fiction treats male and female characters. Few games even consider that characters can exist outside of the gender binary, though thankfully, they are becoming more common.

No game should have any degree of biological determinism in its mechanics. The idea of a genetic destiny is dangerous and causes real-world harm. As much as genetics do have a role in a person, their role is unique to the individual, as is the result of their upbringing. A game designed to discuss bigotry can have characters putting forth ideas of biological determinism, but they should be signposted as the dangerous ideas that they are, rather than presenting neutrally in the text.
Oh what fresh new Hell have we here…
Elves and dwarves and gnomes can't be "races" because… anything to do with "race" is bad. Unless they're an oppressed race, of course, in which case it's perfectly fine to discriminate in their favor to make up for past inequalities. And unless they're an oppressor race (well, the oppressor race, because the're only one, dontcha know, and you can guess which one it is and always will be), in which case it's fine to institutionally discriminate against them. Because that makes it all fair.
But seriously, I've got news for you. Genetics is a thing. It's not the only thing at all, and end results can be influenced by a large number of factors, but genetics and ancestry is one of those factors. On average, men are stronger than women. Women cope better with stress than men. Asians have higher IQs than Europeans, who have higher IQs than sub-Saharan Africans. On average. Those aren't political statements, they're facts, based on statistics averaged over millions of individuals, any one or thousand or ten thousand of whom can end up on the right or left end of the bell curve and defy those averages. But the fact that extraordinary individuals exist doesn't somehow erase the fact that the averages over all individuals do exist. To try to do away with that by some ideological fiat is just weird. Perhaps justifiable in an RPG (because they by definition are set in a land of fantasy), but then the inevitable result is that everyone would be the same. And that would mean you're all, well, you know…
I grieve that some people think that Harrison Bergeron is a prescriptive, and not a warning.
The Role of Violence

The role of violence in fascist ideology is complex. Fascist governments are quick to use violence in a top-down way to enforce their government and crush dissent; however, fascists often see themselves as underdogs, thus they can see themselves in the scrappy and weak fighting back against the evils of big government. The common denominator, though, is that fascists view violence as good, necessary, and effective.

It is may not be easy to create a game that does not use violence of any sort, but this is probably the simplest way to go in creating a game that engages in the fascist narratives around violence. Not all violence is bad, though. Sometimes violence is necessary and effective. Sometimes it is necessary to punch a Nazi. Sometimes it is necessary to tear down a fascist government with direct action.

The key to making violence in a game unpalatable to fascists is to make it unheroic. In fascist ideology, the dealer of violence is a great man, a hero to be looked up to, someone who cuts through the polite niceties of society to achieve their goals. Violence is seldom this way in real life. Real violence is uncomfortable and difficult and is seldom applauded, and is never applauded by all.

Games that wish to frame violence in this way must make sure that violence is a thing that can only be done to protect and as a measure of last resort. Making violence too easy and too glamorous leads to very dangerous results, and encourages players to see violence as the ideal solution to their problems.

I already know I'm going to receive some pushback about this point, talking about how I'm opposed to fun. I would argue that making violence fun one of the more dangerous trends in our pop culture. Violence is not fun. Violence is scary, violence is harmful, and violence is traumatic. That doesn't mean it's not necessary sometimes, but it's not fun. Other kinds of conflicts and disagreements are entertaining in their own right.
Some "necessary" Antifa violence. Can't have people taking pictures!
I daresay that Mike has lost sight of the whole fucking point of role-playing games. They're escapist fantasy. When you play an RPG, you're taking on the role of someone in a world where different rules apply. "Violence is not fun. Violence is scary, violence is harmful, and violence is traumatic." Sure. In the real world. But in the world of the Hyborean Age, or a romanticized medieval Europe (more on that below, alas), or Japan during the Shogunate, or the Federation-Dominion War, or the War of the Ring, or the post-apocalyptic world of Gamma World, or a million other worlds, it is fun to do things that are transgressive, that aren't allowed (or even possible), and that make the whole game worth playing.
You don't play an RPG so your character can fill out tax forms, order soy lattes, and stand on line for toilet paper. You play an RPG so your character can kill his enemies, see them driven before you, and hear the lamentation of their women.
Decolonization

Applying the techniques of decolonization to a game will help to make that game less appealing to fascists. Presenting all individuals within a game as possessing of independent wills and identities is in direct opposition to fascist ideology, a point brought to particular light by the current "NPC" meme going through fascist twitter. You can find more information on decolonizing games at my post here.
I'm not going down the rabbit hole of his… erm… quirky definition of "decolonization." It's not what you think it means, which should be that games are based on European norms. He seems to think it means "people using themes I don't like". Well, you be you, Mike. (On second thought, please don't be you, Mike. You're an awful human being who's one revolution away from your own Killing Fields.)
But the ultra-leftist thinks that playing characters with "independent wills and identities" is somehow going to thwart his perceived enemies from liking his game? This just shows up his utter ignorance of  contemporary politics. It's the people on the right who are the individualists and the iconoclasts. Just watch the 2016 Libertarian Convention if you don't believe me. The ultra-left? They're the ones demanding complete ideological conformity (and endorsing and committing violence if they don't get their way).
Proof: In Mike's ideal game, if you wanted to play an evil slaver who thought that orcs should rule the world and elves are scum who deserve to be exterminated, that wouldn't be allowed. In anyone else's game, that would be allowed. Might not work out that well, but at least you'd be allowed to try. Because it's a game, and in this sort of game, we play roles that are often the opposite of our real-world personalities.
But that's not good enough for Mike. You need to be robbed of the choice to begin with.
Who's in favor of individuality here, Mike? You mean like this stalwart collection of individualists?
Make Fascists Enemies

Finally, and probably most obviously, games that have fascists as an enemy, or the only enemy faction, seldom appeal to fascists. There is a catharsis in taking on and taking out Nazis within a fictional space. In doing so, though, take care to have an understanding of the varied political groups that are aligned into the current fascists. Fascists have their own internal divisions and differences of viewpoints, however united they may be in attacking the marginalized. Making sure that all of these groups are represented in a negative light will assure that none of them will find comfort in the game.

It is also important to signpost that a game will contain antagonistic portrayals of fascists. Frequent content warnings can help maintain the emotional safety of players, and engaging with fascists can put an emotional strain, especially on those not expecting it. Finally, make sure that the fascists remain purely antagonistic. If a player can play as a fascist, then a fascist player will play the game to pursue that option, which is not the desired result.
And here we need to remember who Mike is labeling as "fascists". Republicans. Trump voters. Libertarians. Gun owners. Anyone who doesn't support a full-throated ultra-leftist ideology. He's not talking about real fascists here! He's talking about you, and me, and your neighbor. The fascists, to this guy's twisted mind, are the millions of men and women who don't like his politics. And because of that, they need to be destroyed. And that means making them the bad guys in every context imaginable. Including RPGs.
Plus, let's not forget that last bit. If you want to play anything other than an ultra-left character, you should not have that choice. Not you personally, but a made-up character in a fantasy game designed to allow you to live out actions that you literally cannot and should not do in real life. If it's not Politically Correct, you cannot do that, in Mike's ideal game.
What could possibly be more "fascistic" than that?
Final Thoughts

Fascism is on the rise again. The last time fascists came to power, it took a war to remove them from it. Active resistance against fascists is necessary right now in order to stop them from becoming entrenched deeper again. The media we create and consume speaks to our ideals and our hopes for the future.

Let us work together to make our hopes set on a future without fascism.
Yes, it did indeed take a war. The Cold War. And we won. But now you crypto-Fascists (and let's not mince words, that is precisely what Mike is) are trying to steal that victory from us. The victory against the ideological totalitarianism of Marxism and Communism. The idea that if one has the wrong politics, one should not only be opposed in the public arena of free speech, but utterly destroyed, denied a livelihood, and forced to recant just to eke out an existence.
Is this too much to worry about? Is this too much ado about a mere role-playing game? No. Because people like Mike insist on inserting their politics into every aspect of life. Every. Aspect. He wouldn't have felt the need, or feel sufficiently empowered, to write the drivel that I just quoted if he didn't think it had a purpose. And for people like Mike, there is no purpose other than politics.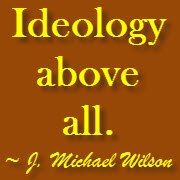 And besides, if some of the couple of hundred real, actual, Fascists or Nazis in this country play D&D, how, exactly does that hurt me or you? No more than the fact that some of the many thousands of real, actual, Marxists and Communists in this country do. (And given the fact that Marxism killed at least ten times as many people in the 20th century than Fascism, that is saying something.) It doesn't hurt me that they play D&D, or that some of them own Hyundais, or that one might be flying on the very same plane as I am 20 rows away. People are allowed to have odious views and still live their lives. I don't have to like those views, I don't have to support those livelihoods, but I certainly don't have the right to say they must be utterly destroyed because they think the wrong things.
The fact that people like Mike apparently do think that people shouldn't even be allowed to play the same game as him because he doesn't like their politics, should send a chill down the spine of everyone who still believes in freedom of speech and thought.