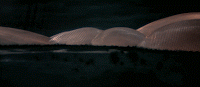 One of the things I think is lacking in most post-holocaust RPGs is the "fish out of water" element. That is, most such games, like Gamma World, have the player characters come having grown up in the setting, many with mutations, etc. I think such settings are made for a scenario which envisions people from the modern era somehow being thrust into the post-apocalyptic world, and having to explore it and deal with the changes the cataclysm has wrought.
Several means by which someone from 2012 might be catapulted into a post-apocalyptic world (whether it be 100 or 1,000 years in the future) include:
They key to the "fish out of water" element is that the player characters haven't witnessed the holocaust first hand. They're not merely survivors, but find themselves in a very different world from the one they knew. If I do a Gamma World game, I'd definitely want to structure it this way.