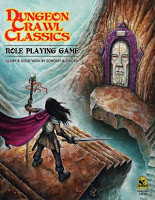 To quote Gurney Halleck from Dune, "Gods, what a monster!"
I gave my first impressions as to the content when I got my hands on the pdf, but now that I have the physical hard copy in my hand, it's… BIG. Has the heft and feel of a high school biology book. The glossy cover doesn't hurt that impression any, either.
I really hope someone is going to run this at Dexcon this July. I'd love to take it for a spin from the player's point of view.